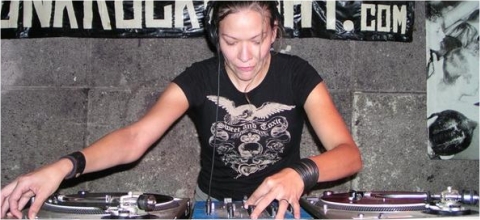 Pixie
Spoololife / Jungle / Bloomington

Potential is best realized when paired with ambition... prooven by the talented junglist Pixie. More than 7 years DJing, and 20+ years studying and performing music has shaped the Junglist Pixie experience. Pixie became a classical violinist at the age of seven... and concertmaster for a local youth symphony orchestra at age 10. A prodigy of the violin, Pixie was accepted into the world-renowned Chicago Youth Symphony Orchestra at the age of 13 with whom she toured Europe twice. By the age of 15... a professional teaching career in classical music , and currently studies Ethnomusicology at Indiana University. A teenage Pixie discovered electronic dance music on Chicago radio, listening to mix sessions by legends Bad Boy Bill, Too Kool Kris, and DJ Funk. Pixie was later drawn towards "Jungle", being influenced by Chicago legends Phantom 45, Danny the Wildchild and 3D... each of which she has shared the stage. Behind the decks, Pixie programs well phrased mixes of fresh Jungle... her talent in achieving this "consistently" has made her a fixture in the regions nightlife scene. It's reason you see Pixie billed with legends such as Aphrodite, Danny the Wildchild, Hive, Monk, and Phantom 45 to name a few. .. or playing notorious festivals such as Underground Sound, Pilgrims and Indians, and Rave Em and Bailey to name a few.
Pixie Bookings
Bring Pixie to your event with mobile express bookings! Complete the form below and we will contact you shortly!
Music
Un expected error, please continue!