PLUR BOOST
PLUR BOOST is an easy way to spread PLUR in one click:
Share with your Friends
Post this event on friends' timelines who allow. Includes flyer, event information, and a link to event personally addressing each friend.
Shout Out on the Event Timeline
A post on the wall of the event, including a shout out to the event, a link to the event, flyer, and event information.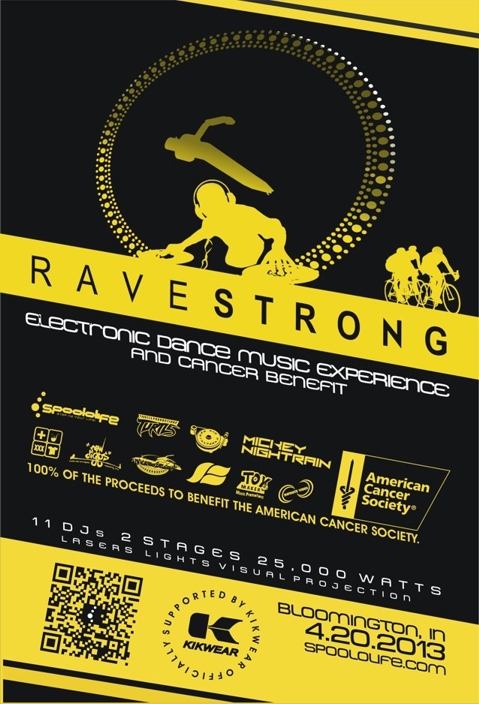 RAVESTRONG
04/20/2013 Bloomington, IN $10.00
CALL TOLL FREE 866.317.9642 FOR DIRECTIONS TO THE VENUE. THE HEALTHY AND STRONG ELECTRONIC DANCE MUSIC UNDERGROUND IS THE RESULT OF THE GRIT, DEDICATION, PERSISTENCE, AND PLUR OF EDM FANATICS SUCH AS YOURSELF. DIVE DEEP UNDERGROUND AND CELEBRATE THE SOUND OF LIFE THAT ONLY ELECTRONIC DANCE MUSIC CAN PROVIDE, AND JOIN US AT THIS EDM SOIREE AND AMERICAN CANCER SOCIETY BENEFIT AS WE RAVESTRONG FOR THE CURE. EVERY DOLLAR OF RAVESTRONG COVER CHARGE IS CONTRIBUTED TO THE AMERICAN CANCER SOCIETY; THAT ALL THE MUSIC, PRODUCTION, PROMOTION, EXPENSES, AND SPIRIT OF THE UNDERGROUND ARE GROOVIN 100% FOR THE CURE... PLUR. CONNECT THE DAY OF RAVESTRONG toll free 00 + 1 + 866.317.YOGA $5 before 9PM / $10 After / 18 + Must Have Valid I.D.
More RAVESTRONG 411