Results Make Impressions
Spoololife Event Sponsorships are guaranteed, proven to generate RESULTS. Live statistics provide instant campaign insight, RESULTS we may appriciate at this statistics page from your mobile device, laptop, or desktop!.
While we don't guarantee our fans will tattoo your brand on their calves, we do guarantee that your support is tattooed in the hearts and memories of thousands of electronic dance music fanatics.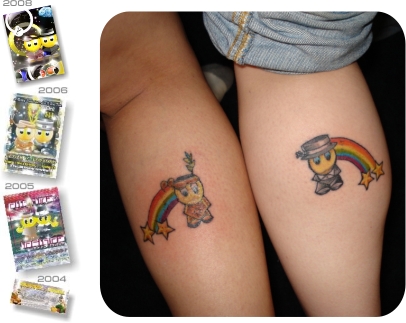 16730 Members
As of 27-Jan-23 02:29 PM, Spoololife's membership includes 16730 electronic dance music fanatics who's expertise comprise numerous segments of the culture and industry. 9970 fanatics involved as raver, 4169 fanatics involved as dj, 1177 fanatics involved as record label, 194 fanatics involved as promoter, 101 fanatics involved as designer, 81 fanatics involved as vendor, 53 fanatics involved as visual tech, 24 fanatics involved as street team, 17 fanatics involved as sponsor, 17 fanatics involved as safety, 7 fanatics involved as radio, 7 fanatics involved as venue, 7 fanatics involved as media team, 7 fanatics involved as sound tech, ... and perhaps yourself.
Membership By Expertise
14158 Newsletter Impressions
Tracking the effectiveness of newsletters can be a daunting task as some email clients may block images such as flyers. Our statistics reflect impressions where members viewed the graphics, and does not include members who only read the text but did not see the graphics.
25 Day Newsletter Impressions
Top 10 newsletters by impressions.
414734 Mobile Impressions
The Spoololife Mobile app makes electronic dance music information available to thousands on the go, and provides numerous opportunities to introduce your brand to both members and non-members alike. With cutting edge print media, device users scan codes (such as the one to the left,) which direct their device to our app instantly; A measurable RESULT durring and after direct distribution.
25 Day Mobile App Impressions
Top 10 Mobile Pages by Impressions
COMMUNICATION
Spoololife communications reach over 1 Million people each year, a method of promotion refined since Y2K.
SEE METHOD
Sponsor With Ease
The VALUE of your support for electronic dance music is priceless, how do you value the opportunity Spoololife can provide a Sponsor such as yourself? Complete the form below and make your offer today in less than a minute.