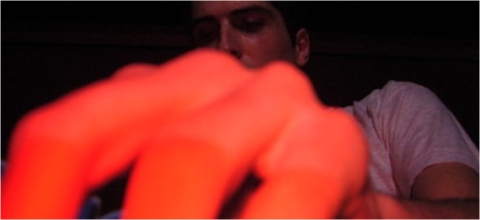 Daemon Sick
Spoololife /Digital Vinyl Recordings,/Liquitech Records / Minimal / Tech House / Madrid

Daemon Sick is a dj & producer from Spain. He begin in the world of producers in 2009 when he signed with the labels Border Records (Mexico), Judi Records (Belgium) and Percent Records (Bulgary). At this moment Daemon Sick had three Ep's as Kinky Girl or Real To Me and appear in compilations like Micro Chip Compilation. His influences came from all music styles from Germany, Holland, Miami, etc.. mixing diferents styles in all his works, playing deep sounds, minimal, tech, house and underground sounds. In spring of 2010 Daemon Sick signed with the labels Abnormal Behavior (Greece) and Digital Vinyl Recordings (USA) for his releases Die Hass EP, Dreamer EP and his first CD with his track Feel My Fire in the Miami Winter Music Conference (WMC 2010), appears with other artist. At this moment he worked as remixer and he was remixed by/for Mathew Oxigen, Groove Section, Lemonboyz, Digital Soulmen, Super Agent 33, Roma Shpak, Norrin Radd, Alberto Psycho, Anmol Pinto, Massimiliano Guaiana, Jeyque, Stereo From Berlin, Dj Fuze, Kachu MX, Edgar Monroy, etc.. . In summer 2010 his remixes of Feel My Fire appear at top ten in the label Digital Vinyl Recordings, in five positions of the top and star his tour in Spain in clubs or events like Fabrik, Reverse, Mambo, Demode, Electronic Music Festival (Hogueras de San Juan, Valladolid), Soho Open Air, etc.. with other artist from his agency Liquitech Group or others artis as Marco Carola, Valentino Kanzyani, Mathias Tanzman, Paco Osuna, Cristian Millan, Oscar Akagy, Alexander Som, etc.. In this summer Daemon Sick played in radio shows as Space of Sound Radio (Loca FM) or Dimension House (Evolution FM) and worked as radio dj in others stations. At this moment Daemon Sick is avaible throught portals as Beatport, Juno, Amazon, iTunes, etc.. or in CD format in the stores of some labels with more than 30 relases all over the world. Today, Daemon Sick has signed by Liquitech records and start a formation with Vatelkat, from Spain, for produce new sounds.
Daemon Sick Bookings
Bring Daemon Sick to your event with mobile express bookings! Complete the form below and we will contact you shortly!
1036 Views